Find the latest Windows news of Windows 11 KB5017846 (22H2) released with tons of improvements . Available via Thirty5Tech News Section which was published and made available by Windows Latest. . All news located here are for information and educational purpose and to let you know the consumer whats going on around the tech industry. All information news technology is brought to you by Thirty5Tech a New York City computer repair service provider which gets it's news from third party party news source.. If you like the news below, Feel free to visit the source of the link for more information or to continue reading Windows 11 KB5017846 (22H2) released with tons of improvements from their main source.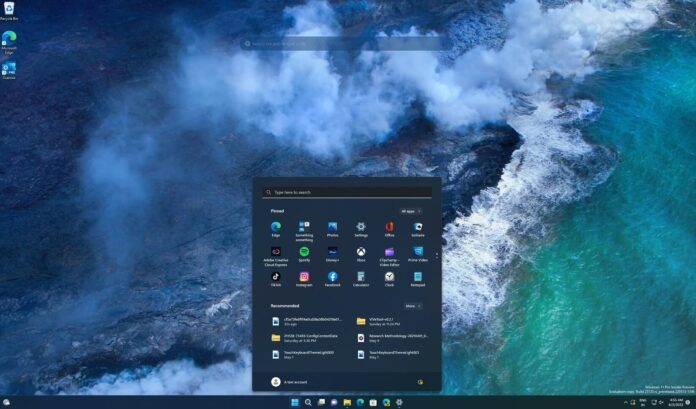 Windows 11 KB5017846 is now rolling out to testers in the Beta Channel and it apparently fixes several bugs ahead of Sun Valley 2's public rollout. It doesn't come with any new features, but there are several notable tweaks. For example, the taskbar's new overflow menu now follows accent colour, a minor 'feature' that has been missing in previous builds.
Unlike the traditional cumulative updates, KB5017846 won't enable the same set of features/improvements for everyone. That's because Windows 11 22H2 updates are split into two parts – Build 22621 and Build 22622.
The 'Build 22621' focuses entirely on minor fixes and features are turned off by default. On the other hand, Build 22622.290 includes new features that are enabled for all users. In this case, KB5017846 (Build 22622.290) comes with a couple of new additions, including an updated overflow flyout that will respect your OS accent colour.
What's new in Windows 11 KB5017846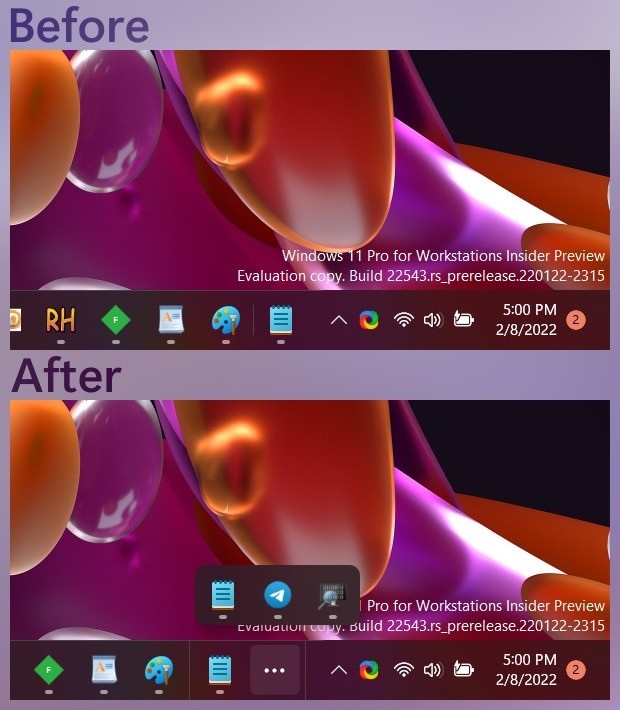 As you're probably aware, Windows 11 22H2 is set to bring back support for drag and drop, and it will also enable a new feature called 'overflow flyout'. This overflow flyout is visible or accessible when you've too many apps pinned or opened, and it aims to streamline the experience.
After this week's update, the taskbar's overflow flyout will follow your accent colour when you enable "Show accent colour on Start and taskbar" under Settings > Personalization > Colors.
Likewise, another change fixes an issue where the flyout displays apps in incorrect order when the language is either Arabic or Hebrew.
Microsoft has fixed an issue that crashes Control Panel when users try to launch it from the Start, Windows Search or shortcut pinned to the taskbar.
Unfortunately, Microsoft has turned off the ability to share local files to OneDrive using Windows 11's share menu. This feature was first added to the operating system in Dev Channel, but it has been taken offline due to feedback from testers.
Microsoft plans to bring back the OneDrive integration in the future after making additional changes to the menu.
As Microsoft has stated in their previous statements, features shipped to users in Dev or Beta Channels may not always show up on production builds.
Here's a list of all bug fixes in KB5017846 for Windows 11:
Fixed an issue that crashes explorer.exe when users try to access certain folders on their systems.
Default Folders pinned to the File Explorer's navigation panel will be re-pinned for one last time if you had unpinned them.
File Explorer rendered unreadable text when users switched between light and dark mode.
Fixed an issue where certain command bar buttons may not work. This bug affected New, Sort, View and other buttons.
Fixed an issue where the search box background won't have a dark background.
Fixed an issue where the keyboard would lose focus.
Microsoft is aware of at least two known problems in this Windows 11's cumulative preview update. As per the company, some users may not be able to open File Explorer. This issue is unrelated to existing File Explorer problems and Microsoft is planning to fix it in the next update.
There's another bug where File Explorer's command bar items like copy, paste, and empty recycle bin may not work.
Visit here to continue reading or for main source of information. Source link